Posted on 27/02/2007 at 15:53
History of the Albatross

Establishing the history of the brand took me longer than I expected... So here is a short summary of what I've learned about those boats.
The beginnings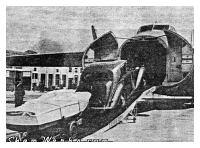 The Albatross Marine Ltd. company is created by two english engineers, Peter Hives (son of the Rolls Royce director by that time), and Archie Peace (an aeronautics engineer trained up by the Bristol Aeroplane Company), in St. Olaves (Great Yarmouth, England).
By applying the techniques they knew, an using the after-war surplus of aluminium, they created the first Albatross Mk1 runabout in 1949. The first models were sold in 1950, equipped with the 100E engine from the Ford Anglia (marine converted, 4 in-line cylinders, 1172cc, side valves, SU carburetor, giving 35 hp at 4500 rpm).
The success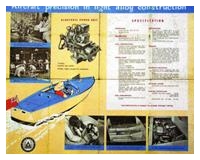 This is when Bruce Campbell joined the team. This billionaire (Hoover family), former test pilot for De Havilland, cruised the Riviera with his yacht, featuring the little Albatross. Soon, many yacht owners wanted to add the little two-seater speedboat to their ships...
Many celebrities then became Albatross owners : Prince Rainer of Monaco (he owned 6 Albies, see my
article from 27/12/2006
!), Grace Kelly, Onassis, Brigitte Bardot, Prince Philip (Duke of Edimbourg, Queen Elizabeth II's husband), John Pertwee, Stirling Moss, George Formby, etc...
We now are in 1954, and the Albatross Marine company, with its 60 employees, produces 150 boats a year! Not only small runabouts, but bigger boats as well, all of them out of riveted aluminium. The British Rail company even built a train station right next to the factory to quickly take the speedboats to Italy and Southern France...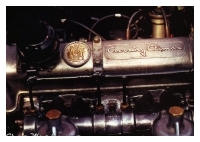 As the sales keep growing, a 4-seater version of the runabout is proposed from 1957... A bigger engine is proposed as optional from 1955 (Coventry Climax, 1220cc, 70hp), propelling the little MkII (created in 1960) at 47 knots (87km/h)!
The little Albatross' performances allow him to win many victories, both in England and in France (Six Hours of Paris). For the same reasons, many water-ski clubs (a sport in full expansion by that time) will use those boats...
The decline...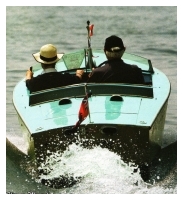 Unfortunately, the end of the make is near, as in the 60's arrive the fiberglass... Polyester-made hulls are more competitive, easier to make, though cheaper...
The Albatross Marine Ltd. last attempt will be a fiberglass 18 foot boat, powered by a 3,8L Jaguar engine. But the success is not there any longer, and the company closes in 1966.
Archie Peace will even die forgotten by everybody... He was affected since his forties by a multiple sclerosis.
Albatros today
Around 1200 Albatross were built, from which 800 two-seaters (600 MkI), and 400 four-seaters. Only 164 models were equipped with the Coventry Climax engine, which make them the most wanted ones.
We estimate that les than a hundred Albatross still exist as of today...
Sources :
Magazine Neptune Moteurs N°123, June 2006