Recaro & Gearbox linkage
So...
My Golf is a 10 Millionth Edition (or "Champ" in France), and this limited edition had several very specific options at the time, one of them being the fabric used for the upholstery, a stripped blue that's on no other model (pictured below, from the
period leaflet
).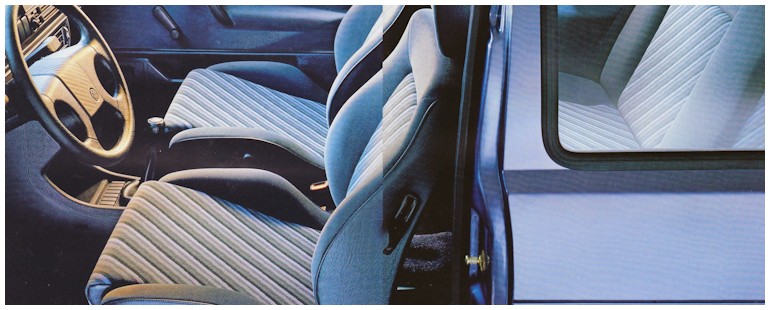 Well, actually, this was what I thought, for almost 20 years, until 2 years ago...
I then found out that in 1989, a limited edition of Jetta (the "GLI Helios" edition), of which only 1500 units were made, exclusively for the american market, had also received the very same fabric on their seats.
With a major difference though : it featured very desirable Recaro front seats!
Needless to say, I started hunting for a pair of those, but they're rare as hens teeth, and whenever an ad is published, it' always in the US, with prohibitive shipping costs.
Being my usual stubborn self, I kept looking, for almost 2 years...
Until march 2016, when an auction pops up on eBay UK, a stone's throw away from one of my in-laws!
God Save the Queen!

I won't bother you with the details of the organisation set up to retrieve and ship the seats to southern France, but here they are, even nicer than I expected them to be!
(yeah, OK, spending that much time and energy for a pair of bloody seats, I know I have a problem, leave me alone!)
Actually, around a decade ago, a US soldier dispatched to an american air base in the UK, decided to import his Jetta Helios... He ended up selling the car there, but unfortunately it got wrecked and sold for parts. The seats got bought and stored for the next 9 years, until their owner decided to part with them. They got attacked by rodents in the meantime, but were neatly fixed by an upholstery shop, with a leatherette matching perfectly the original one.
You know what happened next...

Let me tell you that there's probably not more than a handful of those in Europe! (I only found one
German guy who installed a pair in his 10 Millionen
)
I still needed the railings to install them... I found'em in Poland (damn, eBay is a hard drug), a complete G60 set with electric adjusting (
too much?

). Let's do it!
webbing
" or "
diaphragm
"...!
Not that easy to replace though, as it's
very
tight! My solution finally was to grab each hook with vise-grips, then use a clamp to pull the grips towards the edge of the frame.

I still have to install a bit of wiring and a 20 amps fuse to use the electric adjustment thingy, but I can already enjoy the bloody things!
Dear Martin, thank you so much for your help securing the Glorious Seats!
Bonus : Gearbox linkage upgrade
Keeping on track with the improvement of both user experience and reliability, I decided to make a big update on the gear selector linkage.
The original bushings and links, made of plastic, end up wearing and breaking up (I think I changed mine at least 3 or 4 times). You then get a good 10cm end play on the gear stick, no matter if you've selected a gear or on neutral! You can still use the car if you're used to it, but forget about "race" driving. In the other hand, it's a pretty good anti-theft device!

Long story short, I ordered a "
Smartshift 2
" kit from
USRallyTeam
, which replaces all links with Unibal joints, and all bushings with Delrin-made ones (
POM
). No more end play!
I installed the kit on January 30
th
2016, but it left a mark (literally) : as I was cutting off one of the joints with an angle grinder, I made a wrong move and sent the cutting disc into my left thumb. Cut down to the bone (got a nice gouge in it), tendon and nerves ripped...
#ERsaturdayNight
Anyway, I spent a night at the hospital, but at least the kit is installed, no more end play in the stick, it feels great!
In the picture below, you can see the ugly original plastic joints and "ball", that usually wear off and break
Second picture is the kit form
USRallyTeam
: now we're talking!

I don't have a decent picture of the kit installed in my car, as it's not easily accessible to get a pic, but you can
have a look on this page
if you wanna know how it's installed.
I'll spare you the picture of my post-surgery, Frankenstein-like thumb...

In short, not exactly a plug'n'play kit, but a great improvement nonetheless in the end.