Posted on 23/11/2013 at 18:24
Tribute to Krapo Bleu

Precisely 25 years ago today, on November 23
rd
1988, was put into circulation my daily driver, aka "Krapo Bleu"! (that would translate as "Blue Toad")
I thought it was the perfect time for a small tribute, to celebrate its quarter-of-a-century, including 16 years (and 120.000km) at my service : I bought that car in august 1997 for a whopping 23.000 Francs (around 3500 €)!
My "old friend" as I call her, is a Golf (it might be a "Rabbit" in your country) Mk.2, a limited edition created in 1988 to celebrate the production of the 10 millionth Golf, and named for the occasion "
10 Millionen
" (but renamed "
Champ
" for the French market, go figure)...
It featured specific rims, paint color, blue tainted windows and upholstery, that's quite a rare model! I recently managed to get my hands on the original brochure available at the time in the german concessions (collector!) :
The Golf went a long way since then, as the 30 millionth was produced last June!
I really did everything this one, and I transported just about anything with it!

The original, model-specific 14" wheels were badly corroded, so I replaced them with a set of 15" ATS Cup (found brand new on eBay Germany, with their original VW/TÜV certification papers!), mounted on Yokohama Parada 195/50/15 (great tires, and affordable with that! I highly recommend them!). It has quite a impressive road handling capabilities!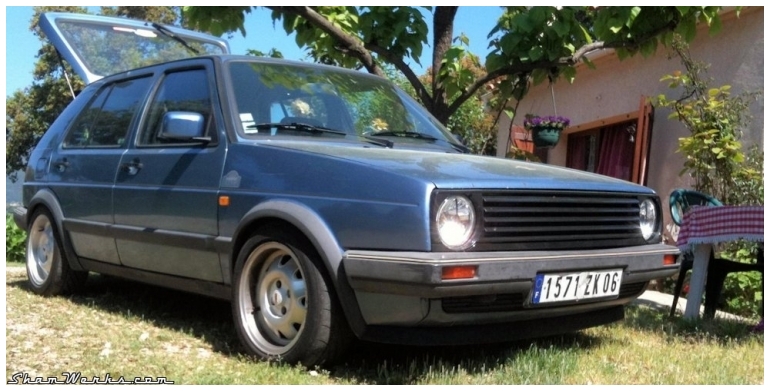 I can't imagine parting ways with that old thing anytime soon... You get pretty attached to these buggers!

But well, it's getting old, I'll need to plan for a coat of paint one day or another... And if one of you had a spare 1.8l engine (carb 90hp) with not too many kilometers on it, I'm interested!

Happy Birthday Blue Toad!