Posté le 28/07/2016 at 16:53
Elvira : Rebuilding the 36hp, episode 5 : Fuel Pump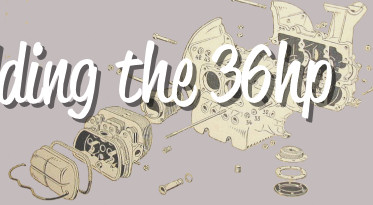 episode 5 : Fuel Pump
Let's continue with the "little things" ; well, "little", but essential! So, I giveth to you, ye Fuel Pump...
I've owned this car for 22 years now, and it has always run this very pump. It was long overdue for some TLC!
Next, just as for the carburetor earlier, I dump all the parts into the ultrasonic cleaning bath, filled up with lemon juice. It looks like new when it comes out after just 20 minutes at 80°C. I rince everything thoroughly with clean water to neutralize the acid action.
Ten minutes later, it looks much better! At least it should limit the risk of leaks right there...
here on TheSamba
), which I obviously do not own, so I make myself make-do one.
The 1958 workshop manual states that the pump's lever should be depressed by 35mm from the pump mounting plane ; so, a piece of laminated steel, three holes -one of which is tapped-, and there you go.
I finally just have to mount the membrane with a thin coat of grease, so that it slides smoothly in place, avoiding any "wrinkle" that may cause a leak...
NEXT!