Posted on 28/07/2016 at 16:53
Elvira : Rebuilding the 36hp, episode 5 : Fuel Pump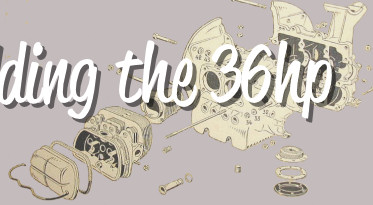 episode 5 : Fuel Pump
Let's continue with the "little things" ; well, "little", but essential! So, I giveth to you, ye Fuel Pump...
I've owned this car for 22 years now, and it has always run this very pump. It was long overdue for some TLC!
Next, just as for the carburetor earlier, I dump all the parts into the ultrasonic cleaning bath, filled up with lemon juice. It looks like new when it comes out after just 20 minutes at 80°C. I rince everything thoroughly with clean water to neutralize the acid action.
Ten minutes later, it looks much better! At least it should limit the risk of leaks right there...
here on TheSamba
), which I obviously do not own, so I make myself make-do one.
The 1958 workshop manual states that the pump's lever should be depressed by 35mm from the pump mounting plane ; so, a piece of laminated steel, three holes -one of which is tapped-, and there you go.
I finally just have to mount the membrane with a thin coat of grease, so that it slides smoothly in place, avoiding any "wrinkle" that may cause a leak...
NEXT!

Edit 2021/10/17
Well, finally, I should have used the lever parts from the kit... As the engine didn't start any more, I found out no fuel was coming to the carb, and I found the lever/arm thingy broken. The stronger spring may be responsible for the lever's untimely death.
I put back everything together with the BBT lever, and it works perfectly (even though I still think these stamped parts don't really fill me with confidence). I also re-use my original axle, as the kit's one does look nice with its 2 circlips, but is too short for my pump's body.
Edit 2021/10/22
Do you remember when I was saying "
The main spring is much longer and strong than my original one
"?
Well, I should have stuck with my initial gut felling and kept the original spring. The kit's one clearly puts way too much force on the lever... Which broke on me for the second time.
Except this time, I was on the road, for the first outing of Elvira in 14 years... And I rode back home on a tow truck.

Re-fixed, and back on the road.... Again. Hopefully I won't have to reopen this fuel pump anytime soon!