Posted on 18/04/2007 at 19:03
Back in time...

Juan les Pins, 60's...
Everything has changed, and at the same time, everything's the same.
In the end, only the girls have really changed, leaving the class and sexy fashion from the sixties for the disgusting flesh and silicon market of the 3
rd
millenium... Times change!
To listen while looking at this picture :
Dany Logan, "Mon cœur à Juan les Pins"
...
Edit 18/04/2007 :
Till now I only had a partiel scan of this photo... I come back today on this picture (original article from 2006/09/30), as I finally found the original post card (thanks to
eBay
, as usual!)!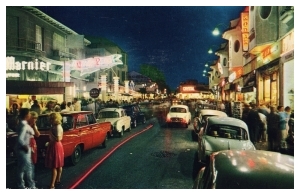 The card has been send on August 20
th
1967. Dauphine and DS populated the streets, a big "
Fly TWA
" sign was above the Crystal... The GrandMarnier on the left still exists, as well as the LunaPark on its right side, which has became a place full of noisy, blinking arcade games... I imagine that by that time, it was full of Flippers!