Posted on 29/09/2007 at 17:40
50.000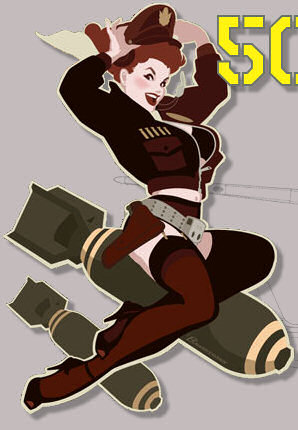 I'm back!
Two month without any new article on ShamWerks, sorry for this long silence, the "real life" has recently been a bit difficult for me, I had other concerns to deals with...
So, this is a bit late that I finally celebrate the
50.000th
visitor on this site!
I decided to celebrate this event with a pin-up from the excellent
Andrew Bawidamann
; believe me, you should have a look at
his site
, he's got hell of a brilliant drawing skill... I am personally fond of his very "generous" style and... sort of provokating...

Many thanks to all of you, frequent visitors of ShamWerks, who contacted me to check I was OK, and supported me somehow or other... In the blogging family, a special thanks to
Olive
and
Ludo
... I appreciate, gents.
And above all, a world of thanks to you, my real friends, the one you actually recognize in these occasions.
You know who you are...
See you real soon on ShamWerks... I'm back for good, and I've got many bombs to drop!