Posted on 20/07/2010 at 17:58
120.000 Hits Pinup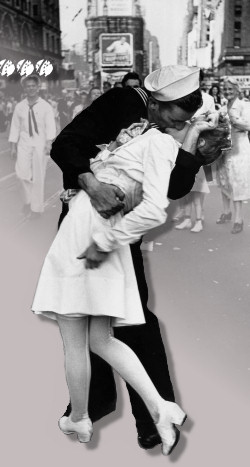 120.000 Hits on ShamWerks
, so in order to respect the tradition, here is the ritual pinup!
As usual, many thanks to all of you for your loyalty, I know ShamWerks has its own small clientele of regular customers, coming back to the bar...

Today's pinup is not only a sexy girl in a nurse outfit...
You probably already have seen this image. It's a picture I like a lot, not only because of the high-heels and fully fashioned/seamed stockings (don't judge me!

), but more for the symbol it represents...
That kiss was shot on Time Square (New York) by
Alfred Eisenstaedt
on August 15, 1945 : on that very day, Japan surrendered without conditions (
cf. previous article
), ending the 6 long years of conflict of World War II.
This picture, published by Life Magazine, became the icon of the "
VJ Day
" (
Victory over Japan
), and of the resulting jubilation people felt that day. You may want to read on Wikipedia
the story of this picture
...
I didn't choose this pic randomly : first, in a bit over 3 weeks from now will the celebrated the 65th birthday of the
VJ Day
.
But moreover, this is a small tribute to Edith Shain, the nurse on the picture,
who passed away last month
; she was 91yo. ... RIP.