Posted on 12/11/2009 at 23:40
100.000 Hits : Chris Sanders Tribute!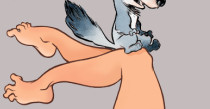 Wooooohooooooo!!!!
100.000 Hits on ShamWerks since its opening in October 1998... Well, OK, 100.000 hits in 11 years of presence on the Interweb, that's not that much.

But hey! That's a milestone anyway!
To celebrate that, 2 pin-ups, this time out of the magic pencil of
Chris Sanders
. His name doesn't ring a bell? He's the creator of
Lilo et Stitch
, of which
I'm kind of fan
!
The Pin-ups are extracts from his sketchbooks (limited editions, signed the author, of which I'm a proud owner!)
Read
Kiskaloo
, kinda
Calvin & Hobbes
with a creepy touch... And pin-ups.

By the way, go have a look at the latest DreamWorks production :
How to train your Dragon
, realisation by Chris Sanders!
That probably explains the likeness between Stitch and that Dragon... On screens for Spring 2010!
That's all for today... Thanks to all of you for your regular visits, messages...See ya!